Some meant inherent extracts to you the structures:
THE PAROCHIAL ONE
EXTRACTS DESCRIBED YOU OF ATMOSPHERES
OR SITUATIONS
DIALECTAL TERMS WITH DERIVATIONS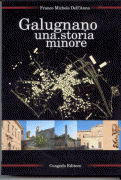 THE PAROCHIAL ONE
The first Parochial one of famous Galugnano to we is the Church of Saint Nicholas, therefore an annotation of the 1608 "… Saint Nicholas… Quae antiquitus erat Ecclesia Matrix dicti casalis…" (1), for "antiquitus" it is from meaning at least before 1522 since in such year the co-existence of the church of Saint Nicholas with one parochial is documented, not sure that one known until to the first half of the 900; it is be a matter of other preesistente and scalzata to the end of the 500 from that one to we famous entitled Maria SS. Assumed and Maria SS before. Immaculate then. We do not know the exact date of the variation, Father Vittorio Boccadamo, already in charge of the Diocesano Archives of Otranto, supposes in 1800 (2), however it is in the pastorale visit of the 1840 we read: ….